Carrying Hope was elated, humbled and absolutely inspired by the impact of our third annual Winter Holiday Bash! Despite all of the hardships that 2020 brought, our supporters came together to ensure that 250 foster children in Central Texas and across the state woke up on Christmas morning with amazing presents. Special thanks to the Long Center for providing us outdoor space at their iconic venue for the second year in a row with incredibly safe COVID-19 protocols; to Aneta Hayne Photography and Casey Chapman-Ross for their fabulous photography skills; and to our board for their tireless work behind the scenes.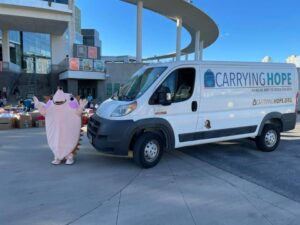 Sunday, December 6, 2020
3 – 5 pm
at
The Long Center
701 W Riverside Dr. Austin, TX 78704
Carrying Hope, a 501c3 nonprofit that provides Hope Packs filled with comfort items and essentials to children who are entering the foster care system, is excited to kick off the holiday season with our third annual Winter Holiday Bash from 3-5 p.m. Dec. 6 at the Long Center, 701 W. Riverside Drive!
Bring the family for an afternoon of socially distant, outdoor fun including spectacular mini-photography sessions against the backdrop of the Austin skyline, take home cookie-and-cocoa kits for every family that contributes a Holiday Hope Pack, and yes, a visit from Santa Claus himself!

Admission:
One complete Holiday Hope Pack per family
or a
(Please indicate the donation is for the Winter Holiday Bash in the 'on behalf of' section of the donate form.)

Photography sessions are $50 per 10-minute shoot with a masked professional photographer from 6 feet away and include two high-res digital images.
CLICK HERE TO SIGN UP FOR A PHOTO SESSION