When we held our first drive in June, we were absolutely thrilled to see the young children of our neighborhood getting so excited to put together Hope Packs for foster children in the Austin area. And we've been just as thrilled over the past two months to see that Hope Packs constructed at least in part by young kiddos are still rolling in.
Above you'll see a pack put together in July by Kita and her daughter Aspen for a little girl. It's unicorn themed!
We are also so excited to announce that we've received our first packs from outside the Austin area! Thank you, Hattie and Charlotte, below, (and your families) for these awesome contributions!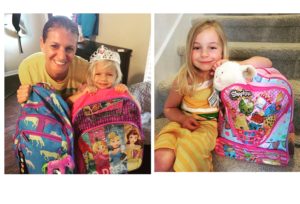 Want to make a Hope Pack with kids in your life? Please do! Click here for more information.