Our first foster daughter arrived on a Friday night wearing a polka-dot party dress that was two sizes too big, her hair just washed in a bathroom sink by the CPS caseworker who had been watching her for six hours as calls went out to see if any foster homes could take her. The caseworker had wanted to make her look more presentable, so that when she arrived, we wouldn't turn her away.
She learned to crawl, then walk, under our roof, so eager to chase her big sisters around that she never even noticed how hard she was working. We've watched her transition from a bottle to finger foods, fall madly in love with Elmo and find a way to get into absolutely everything now that she's mobile. Her laugh comes from deep down in her belly, and it's contagious. She calls me "Mama."
In December, her biological sister was born. She spent 10 days in NICU and was discharged to us right before Christmas. I cut the hospital bracelet from her tiny wrist as "Jingle Bells" played in the background. Our home is the only home she's ever known.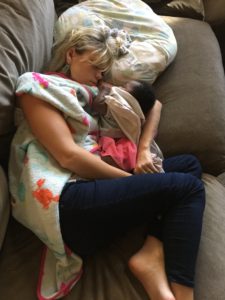 We are madly in love with both of our girls, now 22 and 8 months old. We are their family. And we would absolutely love to adopt them and make it official. But it doesn't look like that is going to happen. The goal of the state of Texas is always to reunify children with biological parents or family members first, and the legal parties in our case — CPS, the girls' lawyer, CASA — have decided to start transitioning them back to their biological family. By the end of September, they will be gone.
I am heartbroken. But I wouldn't trade this time with our beautiful, brave, funny little girls for anything. They came to us at a time when they desperately a calm, stable, loving place to be, and we were able to give that them. I know we changed their lives. And they have changed ours.
I've seen our biological daughters, 7 and 5, fully open their hearts and home to two new little people with a selflessness I never anticipated. We've had important conversations about race, class, privilege and what it means to be a family in a way we never would have been able to previously. Even though our hearts are broken, they are so much bigger than they were before.
We are in close touch with the girls' biological family who, despite many ups and downs, we have grown to know well over the course of the case, and it is my hope that we will be able to remain a strong, stable part of the girls' lives as they grow, even after they leave our house.
I know I will cry when they leave us next month. But then I will take a deep breath, squeeze the heck out of our biological daughters and regroup.
Will we foster again? Yes. Becoming foster parents was by far the hardest thing we've ever done. But it is so worth it.
If you have any questions about fostering or want to learn more, please feel free to reach out to me (Kristin) at [email protected] I promise to tell you everything I know.